To create the best pizza, you need the best pizza tools.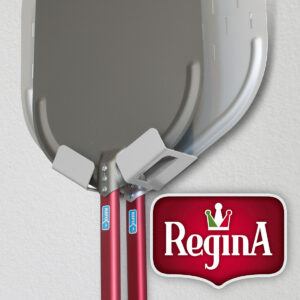 Pizza Oven Tools made in Italy by Regina. Exclusively distributed by leading pizza equipment supplier Euroquip, Regina pizza tools and accessories are your perfect partner in the kitchen.
Italian made, high quality, durable pizza tools – perfect!
Regina produces the best quality pizza tools and accessories in the market. Regina having developed the "Re-Fix System", allows each and every pizza chef to customise their own pizza peel. Ensuring each pizza chef has the best suited tool for their application.
The Refix Blade ensures a high level of health and safety. The ability to detach the peel blade from the handle, allows for easier and more frequent cleaning. This provides the best possible hygiene standard.
Other than Regina's impressive range, We also offer other essential utensils. From bamboo boards, to pizza screens. High density polyethylene dough and confectionery trays are also available for storing food.
Because we can supply you with anything from peels, brushes, to dough ball trays, you can be assured you will find what you need right here!
Don't have an oven for these pizza tools?
Have a look at some options here.
Come and see the pizza tools for your self. Click here for Sydney Showroom location. 
Terminology
Square Peel – Square shaped blade, also known as "shovel" or "spade". Used to pick up pizzas from granite, marble or stainless steel benches.
Round Peel – Small Round shaped blade, also known as "spinner" or "turner". Usually constructed of stainless steel. Used to turn pizzas inside the oven. 
Dough Cutter – Small utensil used to cut and portion large amounts of dough with ease.
Dough Scraper – Flexible utensil (usually triangular) used to remove dough from the dough tray without disrupting its shape.
Dough Tray – High density polyethylene tray commonly used for portioned dough balls. They are placed in the trays to rest and prove prior to use.